---
General Motors Small Electric Car Plans For Indian Market
Posted: 28 Oct 2010 05:31 AM PDT
General Motors is one of kind automobile manufacturer which inspite of facing numerous financial hardships maintained the same level of connection with its existing customers and new buyers. The brand has never looked back and that is probably the only reason why it still stands firm on its feet.
For the Indian market the GM's subsidiary Chevrolet is doing a great job and has became amazingly popular with products like the Chevrolet Beat, Chevrolet Spark, Chevrolet Tavera and Chevrolet Cruze. But the latest and very interesting word coming from the company is that it is planning a small electric car for our market.
Karl Slym, GM India's Managing Director and President, said,"GM would showcase a battery operated, environment-friendly small car soon". He further added,"GM India is strengthening its base in the country through network expansion and an increase in production capacity at the company's factories,"
Chevrolet Volt is GM's only electric product which has been highly appreciated by automobile experts and customers across the world and who knows the new small car may be based on the above flagship car.
Now that GM is all set to enter our market with a new electric car, it will definitely bring a great product for the masses here and is expected to be entertained thoroughly by people here.
General Motors Small Electric Car Plans For Indian Market
is a post from:
Copyrights 2010 CarBlogIndia - All About Automobiles.
All Rights Reserved.
Copyright Policy
Honda CBR250R India Launch In April 2011 – Detailed Specifications Features & Price
Posted: 28 Oct 2010 04:46 AM PDT
Honda, one of the leading manufacturer of cars in India known for its highly refined engines has officially announced of its entrance into the Indian two wheeler sector with Honda CBR250R as its first powerful offering. Across the world the bike has already received immense appraisal and its the turn of the Indian market now to welcome it.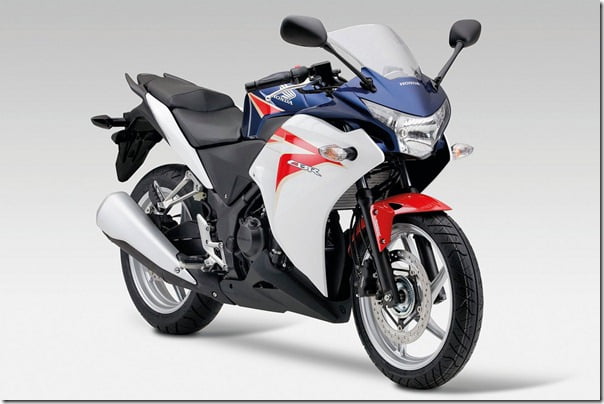 As announced by the company,April 2011 will be the month of its introduction into our market and it will compete against the Kawasaki Ninja 250R and the very recent Mahindra Mojo 300CC. The Ninja on one hand costs around Rs. 3 Lakh INR whereas the Mojo is priced at 1.75 Lakh.
Specifications Of 2011 Honda CBR250R
Name
Honda CBR250R
Overall length × Overall width × Overall height (m)
2.035 × 0.720 × 1.125
Wheelbase (m)
1.370
Ground clearance (m)
0.145
Seat height (m)
0.780
Curb weight (kg)
161 (STD) 165 (ABS)
Riding capacity (No. of people)
2
Minimum turning radius (m)
2.5
Engine type
CS250RE, liquid-cooled 4-stroke DOHC single cylinder
Displacement (cm³)
249
Bore × Stroke (mm)
76.0 × 55.0
Compression ratio
10.7
Fuel supply system
Programmed fuel injection system (PGM-FI)
Starter type
Self-starter
Ignition type
Full-transistor battery ignition
Lubricating type
Wet sump
Fuel tank capacity (L)
13
Clutch type
Wet multiplate with coil springs
Transmission type
Constant mesh 6-speed return
Transmission gear ratio
1-speed
3.333
2-speed
2.118
3-speed
1.571
4-speed
1.304
5-speed
1.115
6-speed
0.963
Reduction gear ratio (primary, secondary)
2.808 / 2.714
Caster angle/Trail (mm)
25º00´/ 95
Tire size
Front
110/70-17M/C
Rear
140/70-17M/C
Brake type
Front
Hydraulic disk
Rear
Hydraulic disk
Suspension type
Front
Telescopic
Rear
Swing arm (Pro-link suspension system)
Frame type
Diamond
Features Of 2011 Honda CBR250R
The CBR250R's single-cylinder engine produces a remarkably broad torque curve with peak torque generated at an easily accessible 7000 rpm. Peak horsepower kicks in at 8500 rpm, well before the 10,500-rpm redline—further testimony to the wide spread of power. Such power characteristics facilitate easy, responsive operation while also returning impressive fuel economy.
Engine countershaft sits lower than the mainshaft to further reduce the front-to-back engine dimension.
Programmed Fuel Injection (PGM-FI) continuously monitors several variables to ensure the correct fuel mixture for the existing riding and atmospheric conditions, thereby delivering optimal performance and remarkably crisp throttle response over a wide range of operating conditions, plus increased fuel economy.
Thanks to its single-cylinder configuration, the CBR250R incorporates a light, compact and fuel-efficient powerplant, resulting in an overall package that is remarkably compact and nimble for intuitive handling dynamics.
Diamond twin-spar steel frame plus a 37mm front fork and Pro-Link® single-shock rear suspension provide impressive handling and a comfortable ride.
ABS version available for enhanced braking characteristics.
Base weight of only 359 pounds gives the CBR250R outstanding maneuverability and helps instill rider confidence.
Stylish full fairing with windscreen deflects the oncoming wind to boost rider comfort.
Sporting ergonomics keep the rider perched in a well-balanced seating position to deliver a natural feel and comfortable stance even over daylong rides.
Full-sized 17-inch cast wheels return big-bike feel and handling traits.
Fuel capacity of 3.4 gallons gives the CBR250R a cruising range of more than 200 miles.
An external fuel filter maximizes fuel tank capacity while also easing fuel filter maintenance.
Grab rails on the tail section are designed to fit gloved hands, giving passengers a dedicated handhold while riding two-up.
A handy underseat storage area adds to the CBR250R's versatility.
Multi-function digital instrument pod includes speedometer, tachometer, engine temperature display, fuel gauge, clock, odometer and trip meter.
Price Of 2011 Honda CBR250R In India
The bike is speculated to be priced near to the Mojo, probably around Rs. 1.5 Lakh so as to compete against the Mojo and Ninja.
2011 Honda CBR250R Official Promo
Honda CBR250R India Launch In April 2011 – Detailed Specifications Features & Price
is a post from:
Copyrights 2010 CarBlogIndia - All About Automobiles.
All Rights Reserved.
Copyright Policy
Tata Safari 2011 New Model In The Making
Posted: 28 Oct 2010 02:15 AM PDT
Tata Motors is all geared up after the launch of its recent MPV Tata Aria and working on another popular MPV / SUV vehicle, the popular Tata Safari. This is an intelligent move to use the technologies used in developing the Tata Aria to develop the all new Safari 2011. The all new Safari 2011 will be based on the same X2 Platform and will use almost same technologies when it comes to engine and transmission.
Tata Aria has featured various safety and technology advancements over other existing MPVs in the Indian market which is sure to begin a new segment of MPVs. Now with Next Generation Safari, the New Model Safari 2011, the features like a really tough and safe chassis and base, ABS, EBD etc. are going to make it safer and peppier. The 2.2 Litre DICOR (CRDI Diesel Engine) will power it with a punch of 320 Nm Torque with Max Power around 140 BHP.
The looks will be refreshed to make it look more sturdy and strong. The headlight and tail-light clusters will also be reworked. The pictures of the new Safari are not available as of now, we will keep sharing more as we find it.
source- CarWale
Tata Safari 2011 New Model In The Making
is a post from:
Copyrights 2010 CarBlogIndia - All About Automobiles.
All Rights Reserved.
Copyright Policy