---
Maruti Suzuki Jimmy SUV Launch In India By 2012
Posted: 29 Dec 2010 12:49 AM PST
Maruti Suzuki is going to launch about 7 new or refreshed models in India in coming two years and one of these can be an adventurous small SUV called Suzuki Jimmy. Maruti Suzuki Jimmy is a small SUV which is currently sold in Japan in a two door version. For India, Jimmy will undergo a 4 door change with fully covered permanent roof with air conditioning and heating for drive comfort along with the rigidness of an SUV.  This mini SUV from Maruti's stable may features a 1.3 Litre diesel engine currently which will be fitted in the Maruti SX4 Diesel which is due for launch in January 2011. Globally Jimmy is sold with a 1.3 Litre petrol engine and 1.5 Litre Diesel with a 4×4 drive and both automatic and manual transmission variants are available.
Maruti Suzuki Jimmy will give a strong competition to Mahindra Thar SUV launched recently. Jimmy is light in weight compared to Thar and is also closed unlike Thar with a soft roof. Though it does not looks as retro and adventurous like Thar, yet it is expected to give a tough competition to Thar. With these kind of Mini-SUVs coming from auto majors like Mahindra and Mahindra and Maruti Suzuki, Indian buyers will have more choices and in future more such products can be expected from other mainstream auto manufacturers.
Below are some of the Pictures of Suzuki Jimmy sold in Japan: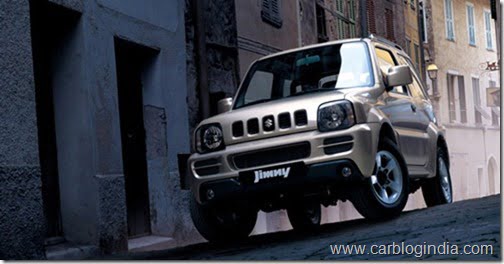 Check out -
Maruti Suzuki Jimmy SUV Launch In India By 2012
is a post from:
Copyrights 2010 CarBlogIndia - All About Automobiles.
All Rights Reserved.
Copyright Policy