---
2012 Bentley Continental GT Price In India Rs. 2 Crore
Posted: 25 Feb 2011 10:00 AM PST
Bentley, Ferrari, Bugatti, Maybach, Rolls Royce etc. form the league of exotic car manufacturers and we are extremely lucky to have them in association with our very own Indian market today. Some of the above are existing while some plan to enter within the next couple of months and mind you when all of them are here, the competition will be as tough as in the small car segment.
Of all these manufactures we believe Bentleys to have more practicality than any other only because of their usability and price. Although they don't come very cheap but in comparison with the rest, they definitely offer more at a comparatively lesser cost.
Previously we had covered the launch of 2012 Bentley Continental GT which was as exciting as any luxury car's launch would be but disappointingly the prices were not out then. Of lately the company has announced the price of this super luxurious coupe and it has been priced at Rs.2 Crore.
The Bentley Continental is a globally acclaimed series and the new crispier and dynamic 2012 GT justifies it completely. Technologically there is no need to compare it with any other vehicle as they set their own benchmarks every time they are out with something new. It sports a 6-litre, 12-cylinder, twin-turbocharged heart capable of pumping out 75PS (567bhp/423kW) and 700Nm (516lb ft) of torque.
Very uniquely with the newly implemented Flex Fuel technology it can run on standard unleaded petrol (gasoline),sustainable bioethanol (up to E85) or any mix of the above two. In 2011 the company also plans to kick in with a high-output 8-cylinder engine delivering significant 40% emission reduction.
2012 Bentley Continental GT Price In India Rs. 2 Crore
is a post from:
Copyrights 2010 CarBlogIndia - All About Automobiles.
All Rights Reserved.
Copyright Policy
Chevrolet Spark Diesel In India Coming Soon
Posted: 25 Feb 2011 09:50 AM PST
Chevrolet Spark has never been successful enough for the company and has been way behind in terms of sales from the company's most successful product till date, Chevrolet Beat. The company offers only above two cars in the small car segment and of which one being a weak player is a matter of concern and it needs to be worked out.
Chevrolet had recently launched Chevrolet Beat Diesel with the hope of penetrating more effectively into the hatchback segment and now has announced of a Chevrolet Spark Diesel variant. Considering the small size of the car, the diesel engine will definitely enhance the car's performance and eventually its sales, once it is into the market properly.
So clearly it will blow away some of the hot selling cars but the Maruti Alto K10 will be affected the most as the company also has Chevrolet Spark 800 on the cards which will sport a 800cc heart and will go on a 1-on-1 competition with Alto. If the company succeeds in expanding its market share even by a small percentage, a large volume of sales will come its way.
P Balendran, company's marketing head recently explained in an interview, "The company plans to launch six new models, and 14 fuel variants in the next two years and of these, three will be from the Chinese SAIC stable" The list of the models include a new small car, a new sedan, new Chevrolet Captiva, a pickup van, a compact SUV and an MUV.
Chevrolet Spark Diesel In India Coming Soon
is a post from:
Copyrights 2010 CarBlogIndia - All About Automobiles.
All Rights Reserved.
Copyright Policy
Maruti SX4 Diesel VS Volkswagen Vento Diesel– Comparison of Popular Diesel Sedans India
Posted: 25 Feb 2011 04:14 AM PST
Maruti SX4 Diesel which has been recently launched by Maruti Suzuki India is a direct and strong competition to the Diesel sedans in India. Among the popular ones is the Volkswagen Vento Diesel which has been clocking good sales numbers for Volkswagen India. The diesel sedans in India are popular among the buyers who want decent luxury combines with high fuel efficiency of a diesel engine and low running cost because of subsidized diesel prices in India. In this post, I will compare two popular sedans, the newly launched Maruti SX4 Diesel and Volkswagen Vento Diesel.

Maruti SX4 Diesel VS Volkswagen Vento Diesel Exteriors
Maruti SX4 Diesel Dimension:
Length = 4490 mm; Width = 1735mm; Height = 1550mm;
Volkswagen Vento Diesel Dimensions:
Length = 4384mm; Width = 1699mm; Height = 1466mm;
Maruti SX4 has more of rounded curves and is larger in all the three dimensions compared to Vento. The styling of Vento is however more modern and appeals more to me. I like the font fascia of Vento very much. It looks exactly like the hatchback Volkswagen Polo from front. If you like larger looking car, probably you would like SX4 more, but if you want style and elegance, Vento is your car then. I personally like the exteriors of Vento better than SX4.
Maruti SX4 Diesel VS Volkswagen Vento Diesel Engine
Engine Specification of Maruti SX4 Diesel:
16 Valve DDis Multijet DOHC
Displacement 1248CC
Fuel Efficiency 21.5 KMPL
Max Power 88.8 BHP @ 4000 RPM
Max Torque 200 Nm @ 1750 RPM
5 Speed Manual Transmission
Kerb Weight 1225 to 1245 KG Kg
Engine Specification of Volkswagen Vento Diesel:
4 Cylinder inline DOHC Engine
Displacement 1598 CC
Fuel Efficiency 20.5 KMPL
Max Power 103.6 BHP @ 4400 RPM
Max Torque 250 Nm @ 1500 to 2500 RPM
5 Speed Manual Transmission
Kerb Weight 1190 to 1220 Kg
Considering the Engine specs, the Vento outplays the SX4 Diesel in both power as well as torque. The main reason for this difference in power and torque is because of the engine displacement. SX4 has a 1.3 Litre Engine whereas Vento has got 1.6 Litre engine which churns out more power but delivers slightly less on mileage. If I have to choose one of the two based on the engine, I would like to pick the Vento 1.6 Litre Diesel.
Maruti SX4 Diesel VS Volkswagen Vento Diesel Interiors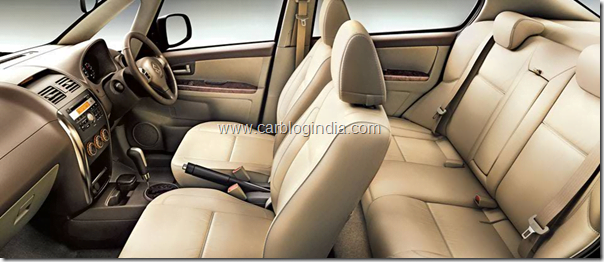 Maruti SX4 Diesel Interiors
Volkswagen Vento Interiors
On the interiors, both cars looks good. Maruti SX4 scored higher on the Interiors with better colour tone. Also, SX4 is more spacious compared to the Vento because of being a larger car. Also the SX4 offers a larger boot space. So on the interiors and comfort front, SX4 has a slight edge. Considering the quality of material and elegance of interiors, VW is better compared to the SX4.
Maruti SX4 Diesel VS Volkswagen Vento Diesel Price
Volkswagen Vento is priced between Rs. 7.99 Lakhs Ex-Showroom Delhi for Trendline Diesel and Rs. 9.24 Lakhs Ex-Showroom Delhi for for Highline Diesel.
Maruti SX4 is priced between Rs. 7.74 Lakhs Ex-showroom Delhi for VDi and Rs. 8.62 Lakhs Ex-showroom Delhi for ZDi variant.
Considering the price difference between the cars is approximately Rs. 25000 for lower trim and about Rs. 62000 for the higher trim levels, I would suggest that SX4 is better deal if going for a higher trim level, however if you are going for a lower trim, spending 25 K extra on a Vento for a more powerful engine makes sense.
Car Blog India Verdict on Maruti SX4 Diesel VS Volkswagen Vento Diesel
If you want a more value for money sedan with high interior and boot space for your luggage, go for SX4, it's a better deal. On the other hand you care more for style and performance and want a stylish exterior and elegant interior with high quality, and space is not your major criterion, Vento will please your better with its quality and power however you will have to pay for the premium as the prices is higher.
Maruti SX4 Diesel VS Volkswagen Vento Diesel– Comparison of Popular Diesel Sedans India
is a post from:
Copyrights 2010 CarBlogIndia - All About Automobiles.
All Rights Reserved.
Copyright Policy
Brand New Harley Davidson Bike In India For Less Than 4 Lakhs Maybe Possible Soon
Posted: 25 Feb 2011 02:56 AM PST
Harley Davidson India sells bikes imported to Indian as a CBU which attracts a total duty f about 110%, which makes these bikes premium priced bikes. Harley Davidson in India has been out of the reach of most Indian bike enthusiasts because of the high pricing, the cheapest one in India being priced at Rs. 5.5 Lakh. Even the cheapest ones today cost at par with premium hatchback cars in India. But not for long, as per the plans, Harley Davidson is planning a CKD assembly unit in India which may drastically cut down the price of Harley Davidson bikes in India. Not only CKD, Harley Davidson will also do some Localization to limited extent which will further bring down the cost. Based on the rough calculations, the prices will drop by as much as 40% if this plant comes up in India.
Till now Harley Davidson has a plant in USA and Brazil only. The next plant may come up in Haryana this year. This is no less than a dream come true for Harley Davidson fans who might be able to but one for themselves after the prices come down by a whooping 40% making the new prices to start from as low as Rs. 3.3 Lakhs. I am keeping my fingers crossed and wish the plant comes up soon. We will me monitoring the developments closely and will bring the updates to you. You can join out free email newsletter for updates via email.
Check out more-
Brand New Harley Davidson Bike In India For Less Than 4 Lakhs Maybe Possible Soon
is a post from:
Copyrights 2010 CarBlogIndia - All About Automobiles.
All Rights Reserved.
Copyright Policy
2011 Bajaj Discover 100 Price, Specifications, Features, Pictures, Colour Options and Details
Posted: 25 Feb 2011 02:33 AM PST
Bajaj Auto has launched its latest economy commuter segment bike, new model 2011 edition of  Bajaj Discover 100 in India. The Bajaj Discover 100 is targeted at the commuter segment for large Indian automobile two wheeler market. The new bike from Bajaj comes with lots of innovative features and technologies like automatic choke, efficient DTSi engine with high fuel mileage and has attractive looks and is price in a very value for money proposition.
2011 Bajaj Discover 100 Features
The main features of Bajaj Discover 100 include:
100 CC DTSi Petrol engine with dual spark plug for good mileage and power
Digital ignition control, Twin Spark and Swirl injection for better engine performance
Throttle responsive ignition control system III rd generation. It is a means of controlling the ignition by operating the throttle. Depending on the needs of the rider whether it be cruising, acceleration or max speed, the ignition requirements constantly change. Based on a particular amount of throttle opening, the magnetic field generated by the magnet opens or closes the reed switch. The reed switch is connected to the digital CDI, which signals the CDI to change switch, the desired ignition advance timing maps. This helps in achieving a good balance between drivability and optimum ignition spark advance, resulting in an almost perfect ignition spark advance for every throttle opening and engine rpm.
5 gears manual transmission with all down for comfortable riding
Patented ExhausTEC technology for better torque at low RPM – ExhausTEC is a device incorporated in exhaust system of 'Discover DTS-Si 'engine. 'TEC' stands for 'Torque Expansion Chamber'.This world-first technology developed by Bajaj Auto
improves the 'Scavenging' process. The exhaust system has this revolutionary feature incorporated, which drastically improves engine torque at low revs without compromising anything at mid or high engine revs. It has been extensively optimized to get the maximum possible performance out of the engine. The Silencer also has a characteristic tonal quality to it. It gives out a pleasant sounding low frequency 'boom' sound. While meeting the mandatory current noise norms, it gives the bike an identity, which is different from any other bike, so as to make it very unique.
Long travel front hydraulic suspension
Gas filled rear suspension for conformable ride
Electric Start
Automatic Choke – This is a new and innovative technology which uses the choke automatically in cold weather
Long Wheelbase for stable riding and higher safety
Twin pilot lamp for better visibility
Pass Switch for safe overtaking
Maintenance free battery for better reliability and less hassle
Anti-friction bushes used in suspension for longer suspension life
Ride Control Switch – This feature has been specifically introduced to enable the Rider to have a non-distracting / non-intrusive indication of an impending change between Economy zone cruising and Power zone cruising. The entire concept is based on Feel. Among the most sensitive parts for a Scooter rider, his / her hands are the most sensitive. The changes in effort required to open the throttle can also be felt very sensitively. This forms the basis for the Ride Control Switch Advantages of the Ride Control Switch Once enabled, the throttle feel / force felt at the throttle will very immediately inform the Rider that he is about to transgress the Fuel Economy zone. He does not have to look at the speedo console for speeds / rpms to be
maintained, lights to glow or audible alarms to be heard. There is absolutely no safety issue, as there are no visual or audible distractions like the other systems. The rider can concentrate on the road/traffic conditions ahead and modulate the throttle, instead of his attention getting diverted. Being very simple and robust in design, there is virtually no chances of failure and it requires almost no maintenance
2011 Bajaj Discover 100 Pictures
Click on the images to see full sized images:
2011 Bajaj Discover 100 Specifications
Single Cylinder 4 Stroke air cooled engine
94.38 CC displacement
Max Power 7.6BHP @ 7500 RPM
Max Torque 7.85 Nm @ 5000 RPM
5 Gear Mutilate Wet Clutch gearbox
Front suspension travel of 130 mm
Rear Nitrox Suspension travel of 110 mm
Large front Disk brakes 130mm in dia
Large rear Disk brakes 110mm in dia
17 Inch Unidirectional tyres
8 Litre Fuel tank with 2.3 Litre Reserve
Single Down Tube Chassis
LED Tail Lamps
Length = 2040mm; width=760mm; Height = 1087mm;
Wheelbase = 1305 mm; Ground Clearance = 162mm;
Kerb Weight = 115 Kg
Fuel Mileage of 89 KMPL
2011 Bajaj Discover 100 Colour Options
Bajaj Discover 100 is available in four colour options:
Black-Green
Black-Magenta
Black Blue
Flame Red
2011 Bajaj Discover 100 Price In India
The Ex-Showroom Delhi Price of Bajaj Discover 100 is Rs. 41,736 which is quite competitive in the 100 CC segment with such innovative features and attractive looks.
2011 Bajaj Discover 100 Price, Specifications, Features, Pictures, Colour Options and Details
is a post from:
Copyrights 2010 CarBlogIndia - All About Automobiles.
All Rights Reserved.
Copyright Policy
Next Generation Volkswagen Polo & Scirocco Pictures
Posted: 25 Feb 2011 01:45 AM PST
The Geneva Motor Show 2011 is going to be an exciting one, especially for car enthusiasts, like me. More so, because cars ranging from an electric Rolls Royce Phantom to battery powered BMWs will be showcased. Next to join the list is the next generation Volkswagen Polo. The new model of Volkswagen Polo has been completely redesigned, into a new concept, which might be showcased at the Geneva Motor Show.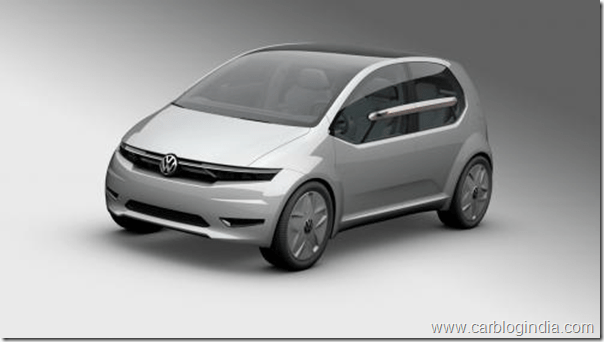 By the looks of it, Volkswagen Polo (above) seems to be equipped with a very intelligent electronic system. As you can clearly see (in the image above), the front windshield extends till the rear of the car which might hint toward the eradication of the RVM. In addition, there are no ORVMs, hinting that an intelligent video capturing unit might be installed giving a complete view of the rear and sides of the car. The video might be displayed on the front windshield, thus reducing human effort and labour considerably while turning (to the right or left) the car. Another unique feature in terms of design which we can notice is the slab that runs along the windows.
VW bought the famous Italdesign Guigiaro design house recently, and it is being alleged that the same design house is responsible for the designs of Scirocco, Polo and other VW cars also. Coming to Scirocco, the leaked images from the European patent office are shown below.
The Scirocco is similar in design to the Polo with the exception of the ORVMs and the slab in between the window extension.
Check out more-
Next Generation Volkswagen Polo & Scirocco Pictures
is a post from:
Copyrights 2010 CarBlogIndia - All About Automobiles.
All Rights Reserved.
Copyright Policy