---
Volkswagen India Chakan Plant Clocks Out 50,000 Cars !
Posted: 15 Feb 2011 04:09 AM PST
Volkswagen has been operational in Chakan for less than 2 years and it has rolled out its 50000th car from this plant today on 15th Feb 2011. This is a remarkable number for Volkswagen India. The major sellers being the small car Volkswagen Polo and the popular sedan Volkswagen Vento which has been making quite a mark on the Indian roads.
Dr. Arno Antlitz, Member of the Board of Management Volkswagen Brand and General Representative of Management Volkswagen Group quoted on this event :
"Touching the 50,000th car production landmark marks the beginning of Volkswagen's next growth chapter in India. Realizing this target in just over a year's time from the start of production is a testimony to the popularity Volkswagen cars enjoy in the Indian market. I wish the Volkswagen team great success for their future initiatives and I am confident that the team here will continue this momentum of growth,"
The Pune plant is one of the most modern in the Volkswagen Group which globally has 61 plants. It covers all stages in the production process from press shop through body shop and paint shop to final assembly. With a total financial commitment amounting to Rs. 3,800 crores (580 million Euros), the Volkswagen plant in Pune is the largest investment to date by a German company in India. With the investment coupled with the vertical integration of suppliers and the employment of people, Volkswagen India demonstrates its commitment to the new site.
Volkswagen India Chakan Plant Clocks Out 50,000 Cars !
is a post from:
Copyrights 2010 CarBlogIndia - All About Automobiles.
All Rights Reserved.
Copyright Policy
More Hybrid Cars Expected In Indian In Coming Years
Posted: 15 Feb 2011 02:22 AM PST
First electric cars and two wheelers got some incentive in from Government of India and now it's the turn of Hybrid vehicles. The reasons why Govt. of India or any govt. encourages use of alternative fuel technologies or hybrid technologies is two folds, Environment and Economy. Both the environment and economy benefit from usage of such vehicles because they throw less emissions or green house gases and secondly they reduce the economic burden of the country by reducing oil consumption by these vehicles. In November 2010 – Govt. of India Declared Incentive Program for Electric Vehicles In India.
There are two reasons why Hybrid cars are not popular in India:
These cars are not manufactured in India and CBU units imported from abroad cost a fortune
Even if manufactured in India in future, these are more expansive compared to conventional petrol cars and India car market is quite price sensitive
To overcome these challenges, Govt. needs to provide some sort of financial incentives to the car companies and buyers to go for Hybrid cars and save fuel and environment. The hybrid cars are not only low on emissions, but also very fuel efficient and quieter as they partly operate on Electric motor only which is much quieter in operation. Its not clear by when and how much to expect from the Govt., but any step in this direction would help to get some Hybrid technology in India. Although there are Micro Hybrid Cars present in India in small number, and also retro systems like Revolo will also hit the Indian market soon, but full Hybrid cars are still a distant dream until there is some initiative from the Govt. of India. We'll bring you more updates as they happen, till then stay tuned to us by signing up for our free email newsletter.
source- ET
More Hybrid Cars Expected In Indian In Coming Years
is a post from:
Copyrights 2010 CarBlogIndia - All About Automobiles.
All Rights Reserved.
Copyright Policy
Fuel Cell Technology, How It Works? – Hydrogen Fuel Cell
Posted: 15 Feb 2011 12:20 AM PST
We all know that the petrol prices are on the seventh sky and probably they will keep rising until they reach an unaffordable level. And undoubtedly it has to happen one day since its a non renewable resource of energy developed from remains of animals.
CNG which is another resource of energy and is rapidly developing in our country but the fact remains that it will get completely exhausted from our planet within a few decades from now. Electric cars are also getting a great response across many countries who encourage such eco-friendly technologies.
But the most promising of all is Fuel Cell Technology which is expected to do wonders once accepted globally. A fuel cell is an electrochemical cell converting energy from a fuel into electrical energy and reactions taking place between the fuel supply and an oxidizing agent result in the generated electricity.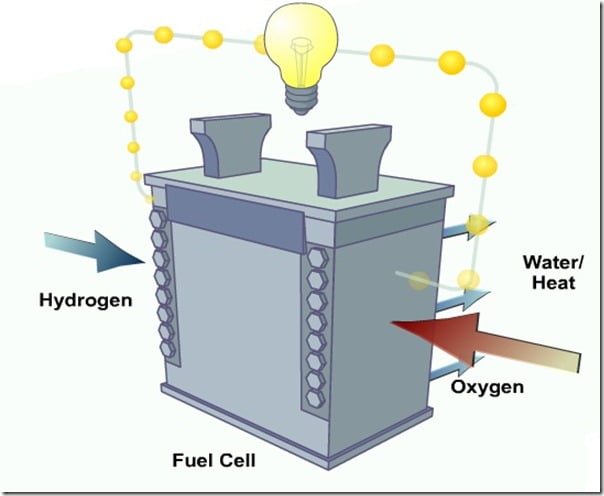 [Image Credit – Treehugger]
Making it more convenient to understand we can say that a fuel cell converts the chemicals hydrogen and oxygen into water, and in the process it produces electricity. Another very common example of an electrochemical device is a battery which is used almost everywhere.
But of all the characteristics the most important one of a Hydrogen Fuel Cell is that it is capable of staying alive for a much longer period as compared to the conventional battery which becomes dead after a couple of hours or days or at most a few months.
Hydrogen Fuel Cell Working
Fuel cells are of several types but the most promising and efficient is the one we are going to explain here. Called as Polymer Exchange Membrane Fuel Cell (PEMFC), this type is most suitable for powering car, buses and even houses. The working of the same uses one of the simplest reactions of any fuel cell and constitutes of an Anode, Cathode, and Electrolyte and a Catalyst.
The negative anode plays the role of conducting the electrons that are freed from the hydrogen molecules and also disperses Hydrogen gas equally over the catalyst.
The channels located on the Cathode as well perform the task of distributing oxygen over the catalyst and also conducts the electrons to the catalyst from external circuit.
A proton exchange membrane acts as the electrolyte which only allows positively charged ions to pass through it and hence blocks electrons.
The catalyst is an important constituent which enhances or speeds up the reaction between hydrogen and oxygen.
Working: Now what happens is that Hydrogen gas enters the fuel cell from the anode part where it is split into two H+ ions after being forced through the catalyst. The electrons thus flow into the external circuit and perform the required work like turning a motor etc. and return to the cathode.
Meanwhile Oxygen gas is forced through the catalyst after entering from the cathode side where it is split into two negative oxygen atoms.
At last the negative oxygen ions attract the lighter hydrogen ions through the membrane eventually combining and resulting in Water(H2O).
check out more-
Fuel Cell Technology, How It Works? – Hydrogen Fuel Cell
is a post from:
Copyrights 2010 CarBlogIndia - All About Automobiles.
All Rights Reserved.
Copyright Policy
Chevrolet Beat Diesel Launch On Track–Expected In June 2011
Posted: 14 Feb 2011 11:55 PM PST
Not even a week has passed since Chevrolet unveiled the Chevrolet Beat LPG priced in the band of Rs.4.10 to Rs.4.53 Lakh, this manufacturer has announced of its next offering belonging to the Beat family. What it could be? Its the Chevrolet Beat Diesel with its launch due for coming June 2011. We reported to you earlier in June 2010 when Chevrolet India Vice-President (Sales, Marketing & Services) Ankush Arora talked about launch of Chevrolet Beat diesel in India, which seems to have been well executed and the launch seems to be on track.
The company has announced that Beat would hit the Indian Automobile market by coming June. This will certainly affect the sales of many successfully selling small cars like Nissan Micra, Maruti Ritz, Maruti A-star, Maruti Swift etc. and probably conquer their share over the market.
So now if you are planning to buy a new hatchback its better to wait for another 3-4 months as this wait could eventually transform into a value for money Beat parked inside your garage. General Motors is planning to invest $230 million in the Talegaon plant ramping up its annual production capacity to a whopping 1.50 lakh units.
Both the Indian and European market will welcome the new Beat and with its 1 litre CRDI diesel engine it is supposed to deliver a brilliant mileage which would remain more or less unaffected by the fluctuating oil prices. So we suggest all you buyers to wait for some time and then choose the best of all the hatchbacks and bring one home.
Chevrolet Beat Diesel Launch On Track–Expected In June 2011
is a post from:
Copyrights 2010 CarBlogIndia - All About Automobiles.
All Rights Reserved.
Copyright Policy