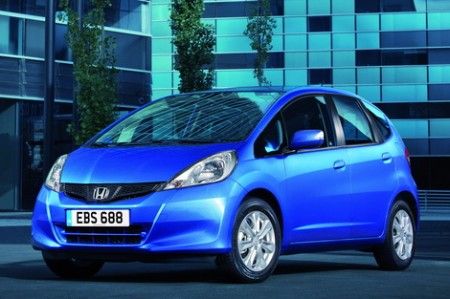 The Honda Jazz has been restyled not very exaggerated, dealing with external parties, both the front and the rear. Inside the cabin versatility is confirmed, the boot has a capacity of 399 liters to 1320 liters in salt laden. She also was also enlarged the supply of color with new colors Deep Sapphire Blue Ionized and Bronze. The range of Honda Jazz restyling is composed of two petrol engines: the 1.2 90 bhp and 1.4 100 hp.
The Jazz 1.2 consumes 5.3 liters of fuel per 100 km and emits 123 g / km of CO2, while the Jazz 1.4 consumes 5.5 liters per 100 km and emits 126 g / km of CO2. The main innovation is represented by the Honda Jazz Hybrid petrol engine 1.3 i-VTEC with the 88 hp electric engine with 14 hp and the CVT automatic gearbox. The maximum speed is 177 km / h and 'acceleration from 0 to 100 is 12.6 seconds. As for fuel consumption and emissions have been declared 4.5 liters per 100 km and 104 g / km of CO2. The 2011 Honda Jazz went on sale in Italy from the price of € 12,350.
The range has declined in the fitting S, Trend, Comfort and Elegance. The Jazz S already includes 6 airbags, ABS, ESP and head units. The Trend Jazz is also equipped instead of manual air conditioning, rear electric windows, steering wheel radio controls and USB interface. The Jazz Comfort provides automatic climate control and 15-inch alloy wheels, while the Jazz Elegance also 16-inch alloy wheels, sunroof and tinted rear glass. The latter two are the only features included the Honda Jazz Hybrid, whose price starts at € 18,950.